You're probably familiar with the four large, unusual sculptures, two of which appear in the photo above, adjacent the South 24th Street Bridge on Interstate 80 in Council Bluffs. The somewhat confusing work called "Odyssey" cost $3 million, much of that taxpayer money, when it was commissioned in 2010. But did you know there are many other lesser known works of art on the streets of Council Bluffs that are frequently located off-the-beaten path? Check out my compilation below highlighting some of these hidden gems.
"Planted Vehicle."
A modern day masterpiece this wonder-work cost $1.4 million and is meant to represent the driving prowess of the average Omaha-Council Bluffs motorist.
"Wedgie 3"
This iconic statue is located near Thomas Jefferson High School. The Council Bluffs City Council approved paying $2.8 million to the sculptor in 1984. The conceptual piece depicts man's inhumanity to his fellow man and the struggle for survival in the 21st century. It's not to be confused with the other two "Wedgie" sculptures lining the streets of CB, "Wedgie" and "Wedgie Part Deux" which were erected in 1979 and 1998 respectively.
"Giant Turd."
Although it was erected in 2002 it is still widely considered one of the top 50 turd sculptures in the continental U.S. Vacationers come from all over the world to lay eyes upon this seminal piece of shit which stands on Madison Avenue just off the I-80 East exit. The Iowa Department of Transportation approved spending $11.3 million which is equal to about $40 million in today's money. The Department outbid officials from Omaha, Wichita, KS and Laramie, WY.
"Full Bladder."
The brilliant work is of the pop art period and was erected in 1972. In many respects it's the number 1 - get it, number 1? - work of art in town.
"Man Boobies."
This beloved sculpture sits in the Lake Manawa District and cost $2.5 million when it was commissioned in 1994. (That's $1.25 million per boobie.) The artist who conceptualized "Man Boobies" goes by the moniker "LaRue" and is also known for his brilliant, trend-setting work in sculpting the iconic "Ball Sack," "Hemorrhoid" (which is on display at the New York Metropolitan Museum of Art) and "Skin Tag" a personal favorite of this writer.
"Untitled."
Officials paid an undisclosed sum believed to be in the low seven figures for this abstract work of art in 2003 that was mistakenly hauled away by Council Bluffs garbage collectors soon after it went up never to be seen again.
"Butter Cow number 9."
Of the estimated 657,000 sculptures of butter cows in Iowa this masterpiece is hailed as arguably the most brilliant. It is on display inside the Council Bluffs Department of Motor Vehicles and has been the destination of countless field trips for school children from across the Midwest. Many Iowa youngsters are moved to tears after laying eyes on this radiant cow art which makes the Sistine Chapel ceiling look like the work of a complete hack by comparison.
"Fish Head Delight."
Only a true genius of an artist would wake up one day inspired to utter: "I've decided on my life's work - glowing, giant fish heads!" It was championed by the Better Love Iowa New Deal foundation, or B.L.I.N.D. These impressive glow-in-the-dark fish noggins sit near the Missouri River in Tom Hanafan River's Edge Park. They took nearly 14 years for the Russian artist, Vladamiracivir, to complete and set Bluffs taxpayers back a cool $4 million.
Untitled
This giant hand stands atop a bakery on McPherson Ave. Because it's been known to frighten small children parents are advised to cover their kids' eyes when passing by. In 2011 the Pottawattamie County Board of Directors paid $2 million for it which works out to $500,000 per digit. Because it only has four fingers occasionally it's called "Shop Teacher."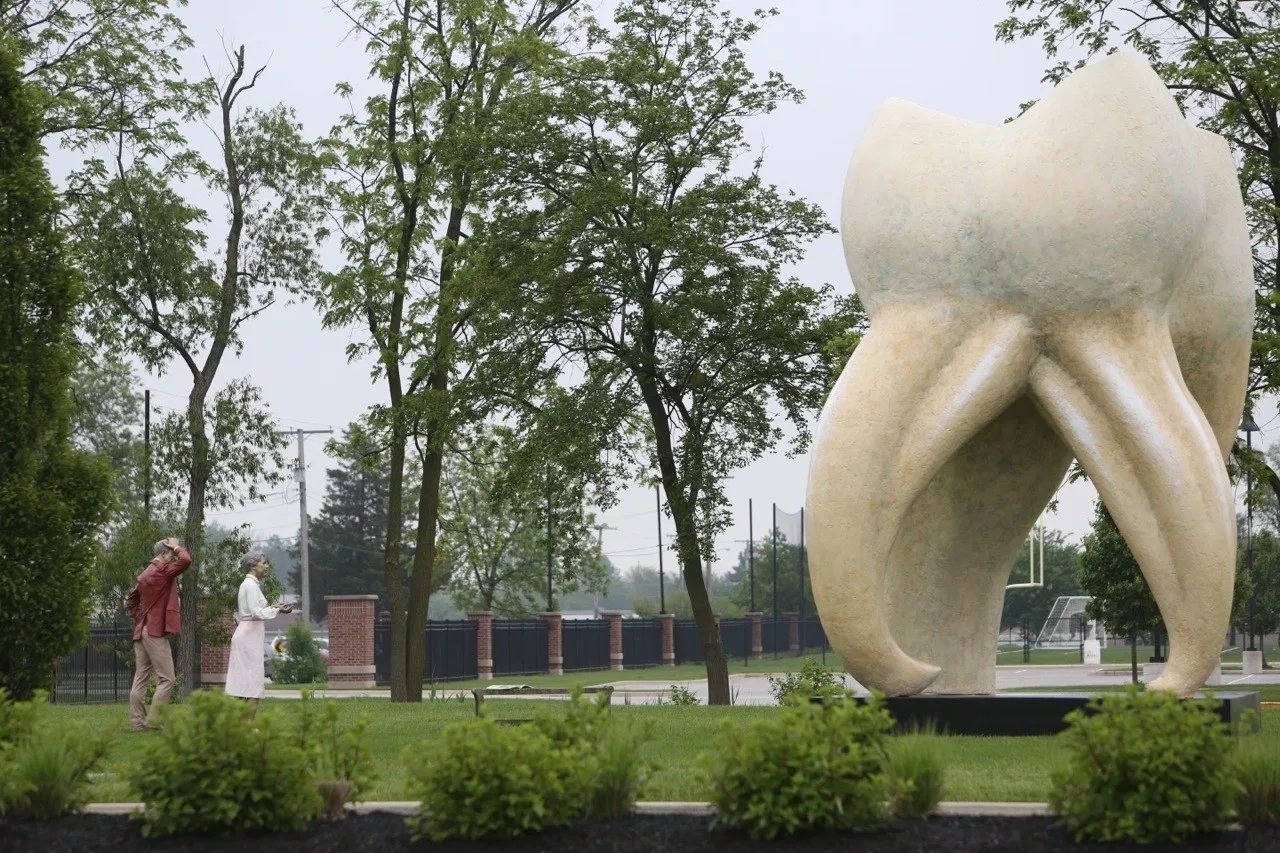 "Toothy."
The ginormous $2 million replica of a human tooth was commissioned by Council Bluffs city officials in 1999 as a reminder to practice good oral hygiene to stave off the perils of gingivitis.
Every night at 9 p.m. it is flossed by a crew of nine Bluffs' Parks Dept. employees.
"Mr. Potato Head."
What can be said about a city that spends $2.8 million to pay homage to Mr. Potato Head? Not much except, "Just wait until you see the $5 million Gumby statue!"
"Carp Stuck in building."
In my humble opinion everything Da Vinci did pales in comparison to this epic sculpture embedded inside the MidAmerican Energy building in the Council Bluffs business district. A bargain at any price it was commissioned for only $1.9 million in 2008.
"Big Kooky Bird."
This gaudy sculpture cost $2.9 million and stands outside the Council Bluffs main library. It represents...well, it probably represents something important.
"Hot Dog and Doughnut."
Council Bluffs officials paid $2.5 million for this piece in 2007 where it soon became a place for Bluffs' residents to go to mediate and think deep thoughts.